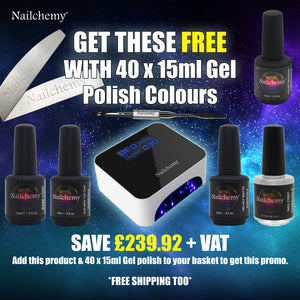 NEW MEGA LAMP DEAL!
NEW MEGA LAMP DEAL!
How does it work?
Get all of the items listed below FREE when you purchase 40 x 15ml Gel Polish Colours at full price.
Add this product to your basket to get all of these products completely FREE when you purchase 40 x individual 15ml gel polish colours.
All you have to do is add 40 of your favourite original 15ml Gel Polish Colours to your basket along with this product and you will get all of these items listed below included 100% FREE.
This deal gives you a saving of £239.92 +VAT against purchasing separately.
What do you get?
1 x Nailchemy 36W LED/UV High Performance Lamp.
1 x 15ml Nail prep
1 x 15ml Base Coat
1 x 15ml Non-wipe Top Coat
1 x 15ml Velvet Matte Top Coat
1 x 15ml Velvet Alchemy Top Coat
1 x #6 gel brush & spatula
1 x Metal File Trial Kit
**Please remember to add only individual original Nailchemy gel polish colours to your basket to achieve this deal.
Click here to go to the offer page.

This can only last for a limited time, so grab your MEGA DEAL now.
---