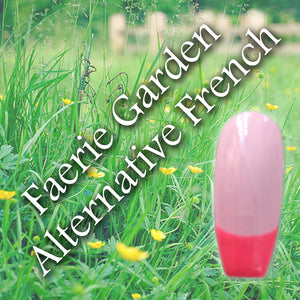 How to create an Alternative French - Faerie Garden
How to create an Alternative French - Faerie Garden
To recreate this nail you will need:
1 x Ballerina Tip (or a natural nail that has been prepped and had base coat applied and cured)
Carnation (or any other soft pink)
Orchid (or any other pastel gel polish)

PPE
Firstly, ensure your work surface is clean and that you are have gloves on. Apply a thin coat of Carnation to the nail tip and cure for 30 seconds in your Nailchemy Lamp.
Apply a second thin coat of Carnation and cure for 30 seconds.
Use your 8mm brush dipped in Orchid to place dots where the sidewalls meet the free edge. (Or where you wish the highest point of your french curve to start.)
Draw two lines from free edge upwards to where you would like lowest point of curve to be. Space the lines so they roughly split the nail in to 3 equal parts.
Using your 8mm brush, draw in the curve starting from the first dot and moving to the lines, then back up to the second dot.
Fill in the space below the line using the brush within the orchid bottle and cure for 30 seconds.
Now top coat your nail design with non-wipe topcoat and cure for 30 seconds.
Your Faerie Garden Alternative French nail is now complete!
(Don't forget to clean your brushes by wiping them through base coat!)
I would love to see your pastel alternative French nails using either the colours above or colours of your own choice! Don't forget to use #NailchemyFrench so that I can see your creations!

- Samantha
---