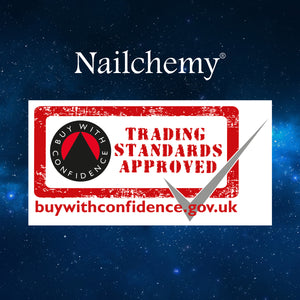 Nailchemy Awarded Trading Standards Approved Status
Nailchemy are excited to be the first company in the Nail & Beauty  industry to be awarded the Trading Standards Approved "Buy With Confidence" mark.
Nailchemy Limited has been awarded the prestigious "Buy With Confidence" mark from UK Trading Standards, becoming the first nail product brand in the industry to achieve this distinction. The achievement is the result of the company's owners, Dave & Hayley Partridge's commitment to product safety and high quality training courses & great customer service, and their desire to demonstrate to their customers that Nailchemy is a brand they can trust.
The Trading Standards Approved "Buy With Confidence" scheme is an optional program that requires businesses to invite Trading Standards into their operations for an extensive audit, with a focus on product safety and services such as training & customer service. Nailchemy's decision to undergo this audit was driven by their commitment to their customers, ensuring that they are using the safest and highest-quality products available and delivering the highest quality education possible.
The scheme is run through the cooperation of a number of Trading Standards Services, and every business that is awarded the mark has undergone a series of detailed checks before being approved as a member of the scheme. Nailchemy's successful application demonstrates their dedication to following the letter and spirit of the law, and their willingness to have their operations, products and training services thoroughly vetted by Trading Standards.
Nailchemy's achievement of the "Buy With Confidence" mark is a testament to the hard work and dedication of the entire Nailchemy team, with special recognition to the Nailchemy HQ team. The team's exceptional knowledge and expertise in the nail and beauty industry, along with their unwavering commitment to product safety and customer service, were instrumental in achieving this milestone. Their collaborative effort and tireless work ethic were the driving force behind Nailchemy's successful application for the Trading Standards Approved "Buy With Confidence" mark.
Nailchemy Director, Dave Partridge, remarked, "The Nailchemy team is made up of some of the most talented and passionate individuals in the industry. We couldn't have achieved this recognition without their hard work and dedication." He added, "We are proud of our team and grateful for their continued efforts in providing our customers with the highest-quality products and training courses."
This achievement underscores Nailchemy's mission to be a trusted and reputable business in the industry, with a focus on product safety, training and customer service. The "Buy With Confidence" mark is a testament to Nailchemy's commitment to providing their customers with the best products and courses available. The entire Nailchemy team is honoured by this recognition from UK Trading Standards and is committed to maintaining their high standards of excellence in the future.
To check out our profile on the Buy With Confidence website and to read up about the scheme for yourself click here.
---