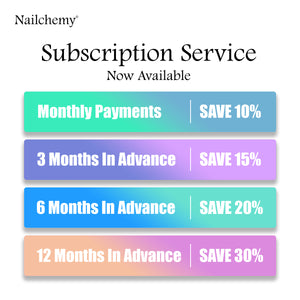 Nailchemy Subscriptions are HERE!
Nailchemy Subscriptions are HERE!
The new way to order the most used products in your salon.
As part of our efforts to continue to save you money in 2023 we have created a brand-new way to order your essential Nailchemy products which allows you to save up to 30% off the normal website price.
We have various subscription options to choose from which we think will provide an option for every budget.
The subscription options are as follows:
Pay Monthly (save 10%) – You will be charged each month automatically for the products.
Pay in advance 3 Months (save 15%) – You will be charged once for a delivery every month for 3 months.
Pay in advance 6 Months (save 20%) – You will be charged once for a delivery every month for 6 months.
Pay in advance 12 Months (save 30%) - You will be charged once for a delivery every month for 12 months.
But, please don't worry you can still purchase in the same way as you did before by choosing the "One Time Purchase" option allowing you to purchase as you have always done without having to use the subscription service.
We're not just offering these amazing discounts, we are also offering *FREE SHIPPING on every subscription. Yes, that's right you can order just 1 bottle of product and we will send it to you each month of your subscription *FREE SHIPPING.
We are also offering a FREE GIFT with every new subscription placed.
Which products are available on subscription?
We have put together 2 essential kits for you to choose from where you will receive the most important consumables each month. We have a HEMA FREE Prophecy gel polish bundle and an Original Nailchemy Gel Polish version.
We also have all your favourite Nailchemy builder gels and Nailchemy fiber gels including Titanium available to create a subscription for.
Here is an example of a subscription you may want to consider:
Nailchemy Original gel polish essentials bundle + 2 bottles of Titanium Builder gel 15ml.
You would then receive both subscriptions each month without having to lift a finger as the whole process is automatic once you have placed your subscription order.
This configuration is actually 2 separate subscriptions, in the example we chose to add the essentials bundle on the monthly subscription saving 10% per month, then the Titanium builder gel subscription we added two bottles to our basket when choosing the "pay in advance 12 months" option meaning we saved 30% on these bottles and we will receive 12 deliveries without having to pay again for 12 months.
This way you can choose to cancel the essentials bundle at any time but will still receive the Titanium subscription for 12 months. This is completely interchangeable, and you can choose any configuration of subscription that suit you the best.
How do subscriptions work?
Add your subscription product to your basket
You will be able to tell a subscription product from a normal product as it will have options to "one time purchase" or "Subscribe & Save". You must ensure you choose the "Subscribe & Save" option you want and then add that to your basket. You might see options like: Pay Monthly, Monthly paid in advance 3 months, Monthly paid in advance 6 months, Monthly paid in advance 12 months. Choose which subscription option is right for you and then add to basket.
What does "Monthly paid in advance x months" mean?
As an example, if you choose "Monthly paid in advance 3 months", then you will pay for 3 months of subscriptions in advance. You will then receive 3 deliveries of your chosen subscription product. This is the same with the 6 and 12 month options, pay once then receive your selected products without paying again for the time listed, 6 deliveries for 6 months and 12 deliveries for 12 months.
Pay for your initial order and start your subscription
When you pay for your initial order with a subscription product in it, our website recognises that and starts your subscription for you. You can buy both one-time products and subscription products in the same order, but only the subscription products will be included in the subscription.
If you start a prepaid subscription, then our website will create a fulfilment schedule on the initial order.
You will receive a confirmation email
When you start a new subscription, you will receive an email confirmation informing you that you have just started a subscription. In the confirmation email is also a magic link with which you can access your subscription portal.
How can you manage your subscriptions?
You can easily access your subscriptions and modify them by clicking on the magic link that is sent with every email. If you lose the magic link we sent you, then we can send you another link so you can access your subscriptions portal.
Want to take a break from your subscription, no problem.
You can pause your subscription by going to your subscription portal and below the payment method you will see a "Pause my Subscription" button.
How do you cancel a subscription?
Your subscription can be cancelled via your subscription portal or by the Nailchemy Team.
To cancel your subscription go to your subscription portal and below the payment method you will see a red "Cancel my Subscription" button.
Otherwise, just send us an email with your subscription details and we can cancel it for you.
*FREE SHIPPING only available to UK Customers
PLEASE NOTE: Nailchemy Subscriptions are only available to UK Customers and once set up payment will be taken automatically until you subscription is cancelled. It is your responsibility to manage your subscription, you should only enter into a subscription service if you are able to afford the monthly payments and have enough cleared funds in your account each month. If automatic payments are declined by the payment provider then your subscription will be automatically cancelled and no further deliveries will be sent out to you until you pay for a new subscription.
---