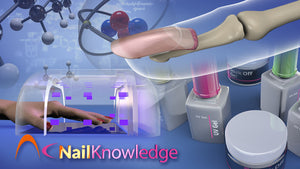 Nailchemy now offers Nail Knowledge Courses
We are so excited to reveal that Nailchemy has become an authorised reseller of Nail Knowledge courses. 
If you haven't heard about this amazing programme of education then we recommend that you take some time and read through this blog to see what it is all about.
There is an explainer video below that you can watch which tells you everything you need to know.
To book your place on this course click here to place your order
The Essential Nail Professional
Marian Newman, NailKnowledge's expert trainer, introduces you to the three Masterclasses and provides an outline of content you will be learning as part of your Essential Nail Professional Diploma.
This is fact based learning on-line. BUT, there is a difference! Nail Knowledge is all the knowledge and understanding essential for the nail professional. It is presented via 3 Masterclasses (The Nail Unit, Product Chemistry and Health & Safety) each having 5-6 separate Lessons.

The BIG difference is that it is presented in a totally unique way. Every individual learns in different ways. Some like reading, some listening, some watching and some 'experiencing'. Theory is almost always taught using 2D images and diagrams. Nail Knowledge animates all of this teaching. You can see the nail growing from the nail matrix; you can watch polymerisation happening; see the blood and antibodies rush to fight an allergen!

Nail Knowledge hits every learning style. Beautiful graphics and animations. The written word, the spoken word together with Knowledge Points in each Lesson, Knowledge Checks after each Lesson. It all culminates in the Final Exam which, when passed, results in the Nail Knowledge Essential Nail Professional Diploma.

The website itself is building into an information base that is an invaluable resource for the nail professional.

Marian Newman is the Author but has collaborated with 2 other experts to make sure the facts are accurate and right up to date with current research. Vitaly Solomonov (a Dermatologist and Cosmetic Chemist) edited Masterclass 1, The Nail Unit. Doug Schoon (world renowned 'all things nails' expert) has edited Masterclass 2, Product Chemistry
Want know more, then check out the FAQ here
Book your place on this course now.
---