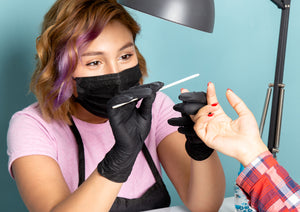 Top 5 tips to starting a new Nail Business.
Where do you start?
Starting a new nail business can be both exciting and overwhelming. With so many things to consider, it can be hard to know where to begin. In this post, we'll cover the top 5 things to help you build your new nail business, so you can get started on the right foot.
Create a strong business plan
Create a strong business plan: Before you start your business, it's important to create a detailed business plan. This plan should include your business goals, target market, pricing, marketing strategies, and financial projections. Having a clear plan in place will help you stay focused and motivated as you build your business.
Develop your brand
Develop your brand: Your brand is what sets you apart from other businesses in your area. It includes your business name, logo, and overall image. Your brand should reflect the values and personality of your business and attract your target market.
Build a strong online presence
Build a strong online presence: In today's digital age, it's important to have a strong online presence to attract new customers. This includes having a website, social media accounts, and online reviews. Make sure your website is easy to navigate and includes all the important information about your business.
Invest in Education & Training
Invest in education and training: Investing in education and training is essential for any nail technician. By continuously learning new techniques, you'll be able to offer a wider range of services and stay up to date with the latest trends. It will also help to increase your reputation and credibility.
Nailchemy offer professional training in all nail technologies, so if you wanted to start off with just Gel Polish or wanted to start with Acrylic we have everything covered to help you get started.
https://www.nailchemy.co.uk/pages/nailchemy-academy
Networking with other Professionals
Network with other professionals: Building relationships with other professionals in your area can help you to grow your business. Join a professional organisation, attend networking events, and collaborate with other nail technicians and beauticians in your area.
By following these tips, you'll be well on your way to building a successful nail business. Remember to stay focused, stay motivated, and stay committed, but most importantly, don't forget to make it fun!
---