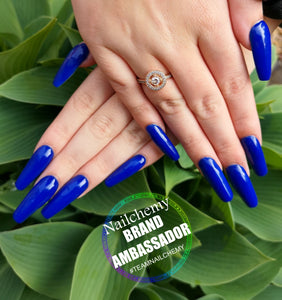 How To Make Your Nail Photos Look Better
Hey hey beautiful people. I hope the post finds you all safe and well. A question I see banded about a lot is "How can I make my nail photos look better?."

There are many ways to do this but predominantly good lighting. A ring light or daylight lamp really helps photos taken indoors, but natural sunlight is always best. As I personally work from home and mobile, I find  at a clients house they usually don't have the best lighting for taking my photos.  I usually ask my clients nicely, weather permitting to step into their gardens and pose over some foliage or flowers.  
Here are my personal top tips for do's and dont's.
The octopus pose.
This pose looks particularly awkward. It makes it look like there's too many fingers, clients have a tendency to push their fingers hard on the table, spread fingers wide and looks very unnatural so this is a don't from me.  
This photo is also a don't, the clients fingers are squashed and awkward. The pose also hides a lot of the nails which is the whole point of the photo in the first place.
My personal least favourite pose nicknamed " the invisible willy pose" Although it does show all of the nails on that hand the nickname gives away what it looks like. Also the filter applied to this shot is very unflattering making the clients hands look red and sore. 
This photo is much more flattering. The clients hands are relaxed and comfortable. The mat makes the background not reflective and is pleasing to the eye. Mats come in a variety of colours and materials, you can use anything from wallpaper samples to an old curtain.
These photos use a variety of props. Props can help you pose your clients comfortably and in natural positions. It pulls the focus to the hands and nails naturally. You can make pretty much anything into a prop with the right hand positioning from cakes to cats to cars.
Neutral or complimentary backgrounds help focus the attention onto the nail and good camera focus on the nail helps show off your work.
And lastly filters and editing. I know some will agree with filters and some won't. I think it's down to personal choice. I personally use  the aviary app for my editing. I first crop my pics then use the enhance feature with the portrait filter. This smooths the clients skin without blurring the nails. I then adjust the brightness and warmth to try and make the colour on the photo as close as possible to how it looks in real life.
- Carla
---