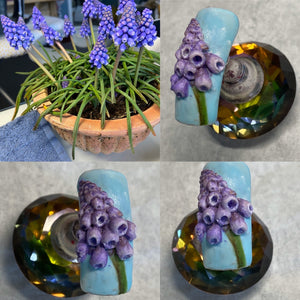 Hyacinths - 3D Nail Art
This week has been a mix or highs and lows, which I am sure is the same for so many people; being so used to a structured day and all the tasks we perform within it.  For me I have had additional emotions linked to leaving my teaching role after 23 years to begin a new journey within the nail sector in a semi-retired role.  Having no regrets to my decision and being very excited as to what the future holds, but with the new working practices putting a hold on the direct teaching practice and spending time with my clients I am feeling a bit at sea!!
So when I woke up this morning, the sun was shining and I looked out into the garden and a pot of Hyacinths that a student had grown and brought into me as a leaving present was in full bloom. I knew then, this was my mission for the day…..to recreate a bloom in 3D! 
Having done sugarcraft for many years, I just love being able to study the subject close up and there were many times, when I had purchased a bloom just to watch it from bud to full opening to see how the form changed, then afterwards take it apart to investigate what the individual elements were and their part in the whole.  I would just like to say at this point…..no flowers were harmed in the process of my project!!
When deciding on colour I was confident that just a mauve would be right, but it was surprising how much bluer they were!!  Also that the heads actually have a pattern to the buds…..they look a bit like a mermaid scale when closed, but as they drop and open they go into a spiral…..with the bloom shape representing an elongated bell with just the very tip return, turning from the palest mauve into white – nature's own ombré!
To give my nail a slightly different look, I decided to almost look up to the bloom…..allowing me to show more of the open elements of the buds.  The drawing I did was very basic as the shape is literally a triangle with a slight bow of a stalk, which all things considered was actually quite thick, but I guess that is needed to hold up each of the buds.  I then began building the shape required – the top in one piece, which I then used my silicone tools to mark the shaping.  Moving down each bud is shaped individually ….. I used white 4D gel, but I guess if you had purple you could miss the painting stage and just add the definition,  however, I am rather pleased with the outcome and look forward to my next 3D challenge…..I have an idea, but will share that later!!
- Lynda
---