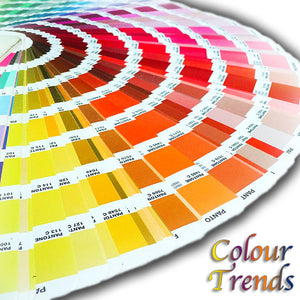 Top Nail Trends - Summer 2020
Top Nail Trends Summer 2020
Metallics
Yellow
Dark Green
Garden Party Shades
Pastels
Soft Orange
Blue
Nude
Matte
80's
Ombre 
Metallics
I'm loving the fact that this can be a varied use of products in order to create a metallic nail. Nailchemy have a huge range of items that can create some lovely metallic nails. Firstly, the Gods gel polish collection. Eight solid metallic finish colours, including a gorgeous blue in that of Hades. Ensuring that not only as a nail tech, you are able to offer one of the most popular nail finishes of the summer but also in what is the colour of the year too!
Another collection from Nailchemy that not only offers a metallic finish, but that of a marble effect too would be the metallic ink polishes, also an eight colour collection. Metallics don't just have to be in the form of gel polish. Nailchemy also offer a range of metallic foils and metallic foil leaf, leaving your clients spoilt for choice! 
Yellow
Yellow. Set to be one of the most popular colours for Summer. Hoping to be nice and bright to compliment the weather. Nailchemy's go to gel polish yellow for the Summer has to be Honeysuckle from the Faerie Garden collection. A creamier set yellow but equally still nice and bright. For those clients that enjoy brighter nails, Toxic Tonic from the Spring collection of 2018 will definitely appeal to them.
For some clients, a full set of solid colour nails just isn't enough (those that love abit of glitter too) Gemini from the Astrology collection would look super sparkly when rock-starred into the base colours of Honeysuckle or Toxic Tonic. For clients looking for a more subtle yellow, Daylily from the Summer 2018 collection would be perfect. For the acrylic nail techs that like to try design sets, Begonia from the Indian Summer collection is a gorgeous bright yellow coloured acrylic. It would blend perfectly into an ombre with cover Peach or Blossom from the Genesis core colours.
Dark Green
If I'm to be perfectly honest, Dark Green isn't a colour I myself would consider wearing. Until, I had seen it used to create a negative space set of nails. It was a real Forest Green colour that was such a contrast to the builder gel colour, that it completely changed my mind. A real Forest Green can be found in Shaman from the Midnight Magic collection. A glittery/metallic Green gel polish by the name of Hawthorn from the 2018 Autumn collection, makes a lovely couple of "accent" nails when used alongside Shaman.
Garden Party Shades
So, if someone was to ask me what would I consider to be "Garden Party Shades" I immediately think florals. So, your typical garden flowers of carnations, dahlias, peonies, not forgetting the green leaves. Nailchemy's Spring 2020 collection ticks all of these boxes, aptly being named the Faerie Garden collection. With gel polish names such as Tulip, Cornflower, Apple Blossom and Honeysuckle to name a few, Nailchemy definitely have you covered for your Garden Party Shades.
Pastels
So, for this section I am going to refer back to one of Nailchemy's first collections of 2018 the Summer collection. It is the perfect collection for pastel shades. If I was to describe this collection, it would be a mellow rainbow. Pastel colours from across the spectrum. Allowing for a nail in each colour!
Soft Orange
Soft Orange I find is always a popular colour during the Summer months. A lot of my clients opt for an Orange shade to compliment tans or upcoming events they may have. Nailchemy have a couple of soft Orange shades to offer. Dahlia from the Summer 2018 collection and also Tulip from the Faerie Garden collection.
Blue
The colour Blue. Set to be the number one colour used for 2020. Nailchemy is definitely not in short supply of the colour Blue. My absolute favourite that they have to offer is Lupin, from the Autumn collection of 2018. If I don't know what colour to have on my own nails, I always go back to Lupin. It is a really rich blue colour, that is slightly ,metallic and glittery. In some lights shining a deep blue and in others hints of purple. Other Blue products you can find from Nailchemy are:- Stratosphere, an almost royal blue chrome powder. Blue Raspberry from the Forbidden Fruits collection, as well as Paw Paw. Starman, Ice, Periwinkle and Bluebell from the Genesis acrylic system. As well as Blue glitters such as Rigel and Pisces to name a few.
Nude
If someone was to ask me to describe a nude colour, the first colour that comes to my mind is beige. However, Nude colours can be a range of different colours, that are often referred to skin tones. As we all have different colours and variations of skin tones, so do Nailchemy within their Nude collection. Here you will see a range of pinks such as Albertine and Hibiscus. To a beige in Caribbean Sand. A gorgeous brown tone in Cocoa and a rich metallic Peach in oyster.
Matte
Matte nails. A non-shiny finish. Not every client will be a fan of matte nails. I myself, love the look of them. Wasn't sure I could wear them. Until, I found Nailchemy's Velvet Matte finish. Exactly as it says in the name. It gives the nail a non-shiny effect to the eye and yet super soft to touch. I do love being able to give clients a choice of finish and being able to show them how the top coats differ. The Non-Wipe Top Coat and Velvet Matte top coat can both completely change the look of the same colour. It also, obtains another use in itself. Not only is it a great finish effect but it is a really great surface for nail art. It allows for a super smooth surface, complimenting Nailchemy's Artisan Gel Paints, for the clients that like to have a bit extra. If you don't already own Nailchemy's Velvet Matte top coat, you really need to!
80's Nails
80's inspired nails are set to make a comeback this Summer. Think Neon. Think geometric shapes. A nail of each colour and some colour blocking and we're there. The full Forbidden Fruits collection would be great to use as neon gel polish colours. Another great product that would create some amazing colour blocking, over Nailchemy's Onyx gel polish would be their neon pigments. If you have particularly adventurous clients, use Nailchemy's Lumos top coat to really finish a neon set of nails, by making them glow in the dark!
Ombre
Ombre nails! Who doesn't love an Ombre nail!? Although, Ombre not as we know it. So, when asked about an Ombre nail I immediately go to the French Ombre. Classic Pink and White nail that is so very popular. But no. Not this Summer.
When asked for Ombre nails some of us techs without hesitating pick up the acrylic brush and create a great Ombre. Some of us techs, especially when asked to Ombre gel polish, just want the seat to swallow us up, as we attempt the dreaded blend between the gel polish colours. However, this Summer we may all be saved. No more blending. An Ombre I'd never even considered before.
So, firstly you choose your colour and then choose 3,4 or 5 shades of that colour. Starting from thumb to the little finger, using your lightest colour first and working your way back painting a different shade on each nail. Therefore, creating an "Ombre" effect across all fingers. No more struggling for that "perfect" blend. Which we all end up criticising ourselves for, that it could have been done better. So, this will definitely be a new design I shall be trying and wearing myself this Summer.
I can't wait to see your future summer 2020 nail trend designs! Don't forget to tag your nail pics with #NailchemySummer2020 so that I can see your creations!
- Sophia
---