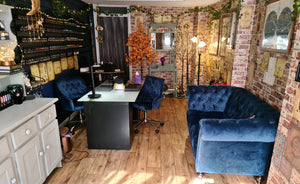 Customer Blog 001 - Pixie White
Hi, I'm Pixie of Alchemy Nails. A little salon in Launceston, North Cornwall. I discovered Nailchemy at the beginning of 2019 (they were a fairly new company themselves), when I was researching which nail company to invest in for my fledgling business, after having recently qualified as a nail tech.
I thought I would have real trouble finding a product to suit me, as I wanted something that stood out. Something to offer my clients, that was a little different to the usual, and a good quality brand that I could really trust, as I knew that I had one shot with new clients. Even if I could be a good nail tech, I knew that if the products I was using might let me down, then it could well be game over.
I had already decided on a magical feel and theme for my salon. I wanted something that suited my personality, and something that set me apart from others. I had decided to call myself "Alchemy Nails", so imagine my surprise when I came across the Nailchemy brand! I was like it was meant to be! Then I discovered all the lovely gel polish ranges that they offered. Especially the magnetic ranges - they seemed so exciting! So, I contacted Dave to discuss my first order, and he couldn't have been more helpful. I felt I was in good hands.
I jumped in feet first, and bought their whole gel polish range, and I can honestly say that it was one of the best decisions I have ever made.
Two years later, my business has already gone from strength to strength, and I credit Nailchemy with being a huge part of this. 
I (like many of us "Nailchemists") feel like I'm more than just a client. As they are such a friendly family business, who encourage interaction, and are genuinely happy to support us. Hayley and all the lovely Nailchemy ambassadors regularly host live tutorials, and help is only ever a message or phone call away. 
I feel like they've been with me on my journey, every step of the way, as well as me being a part of their journey, as they've blossomed as a company themselves, in so many ways, and introduced such an impressive amount of new and exciting products. I am so over-the-moon that I am now able to use Nailchemy exclusively with my clients, since they also introduced their whole acrylic system, which works like a dream. 
My regular clients have all come to know and trust Nailchemy themselves and are always just as excited as me when a launch is announced! New clients are also guaranteed to be impressed when I show them the range I have. The only trouble for them is deciding which to go for!
I think my favourite Nailchemy products are still the magnetic gel polish ranges. They are so quick and easy to do, and always give such a stunning result. I would say they are also a favourite for most of my clients too. I also couldn't be without the Artisan gel paints for my nail art. They are amazing to work with.
Social Links:
https://www.facebook.com/alchemynailscornwall/photos/?ref=page_internal
---