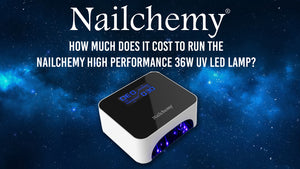 How Much Does it Cost to Run the Nailchemy LED Lamp?
Have you ever wondered?
Have you ever wondered how much it would cost to run your Nailchemy High Performance 36W UV LED Lamp for a day, a week, a month?
Well, we have done the maths for you so you can get an understanding of the costs associated with using your lamp during each service. Before we show you the costs let's take a look at the lamp itself.
The Lamp
The Nailchemy High Performance 36W UV LED Lamp is such an amazing piece of equipment, it sits there all day and works effortlessly to ensure your clients leave you with the perfect cure for their new set of Nailchemy nails. Because we have our lamp tested with all of our products we have the confidence to know that it cures all of products perfectly at the times specified for each product. This is because of the specification and placement of the LEDs along with the overall lamp design.
Specification
Adjustable settings for 10s, 30s, 60s & 90s low heat mode curing.
Smart hand sensor activation and manual operation mode.
Dual UV wavelength: 365nm & 405nm.
Super clear LCD dual digital timer display, one for you one for the customer.
18 strategically placed LEDs.
LED placement optimised for 5 finger curing.
Reflective, removable bottom tray with finger placement guides to help clients place their fingers correctly for the perfect cure.
Rated Input: DC12V 3A (supply by approved adaptor)
Adaptor parameter: AC Input 100-240V ~ 50/60Hz 1.0A
AC Power: 36W (Max)
Output: DC12V 3A
With all of the specifications above packed into such a small space you'd be forgiven for thinking that it must use quite a lot of electricity to provide all of these each time you wanted to use them, well let's see.
Running Costs 
Below you will see a simple table showing the costs of each setting, including when the lamp is just plugged in but not in use, we have covered everything.
The table below is based on the following energy usage and cost per KWh.
Lamp on Standby - energy usage = 1.2W
10s,30s,60s full power - energy usage = 23W
90s Cool Cure - energy usage = 15.5W
Cost per KWh/Unit = £0.50
Nailchemy 36W UV LED Lamp Approx. Costs for use

Timing/usage

Wattage

Cost per service/time

Cost per Day

(10 Clients)

Cost per Week

(5 Days)

Standby

1.2W

£0.0006 (per hour)

£0.005 (8 hours)

£0.025

10s

23W

£0.003 (10 uses)

£0.03

£0.15

30s

23W

£0.01 (10 uses)

£0.10

£0.50

60s

23W

£0.02 (10 uses)

£0.20

£1.00

90s

15.5W

£0.002 (10 uses)

£0.02

£0.10
Low Running Costs
You can see from the table above that it is really cost effective to use the Nailchemy Lamp in your salon. With usage costs from just 1p per client it really is worth every penny.
*Please note that all information regarding energy usage and costings is approximate and only used as an example for this example.
---